Squamish veterinary clinic features minimalist, calming interior with animal-friendly materials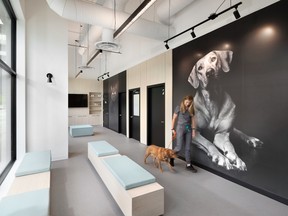 Reviews and recommendations are unbiased and products are independently selected. Postmedia may earn an affiliate commission from purchases made through links on this page.
Article content
Taking your pet to the vet can be stressful for you and your animal, so what can be done with good design to help put everyone at ease while also being functional as an animal hospital? This was the thinking that went into the new Sea to Sky Veterinary Clinic in, says senior interior designer on the project Josianne Berube. At the time, Berube was with AKA architecture and design and is now with STARK Architecture.
Article content
A feeling of calm was achieved by using a light, minimalist colour palette (white-washed wood, cool white, greeny blue and greys) and wide open windows, says Berube.
"You don't want to use bright, saturated colours, but instead something that's not too overtly stimulating," she says.
Berube says that veterinarian and clinic owner Fraser Davidson was great at giving the team clear directions on how he wanted the space to function.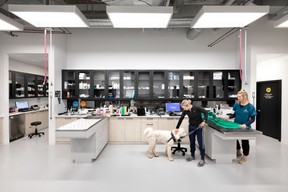 "He wrote down what his needs were, how the animals would move from the kennels to the exam room, to the surgery, and was very specific. He envisaged how he wanted the clinic to work for him and translated that to us," explains Berube.
How a space will look is always top of mind, says Berube, but when designing something like a hospital or clinic, function is so important.
Article content
The clinic had to include a dental clinic, X-ray room and surgery room, and mechanical and electrical systems that work correctly for surgery.
Because it's a vet clinic, they chose very hard-wearing materials, says Berube.
"We used special flooring in reception that's highly resistant to claws and cleaning, a high-impact plastic laminate for the reception desk and walls at the front and back of the clinic, and LED lighting at the proper colour temperature to make sure it was efficient," she says.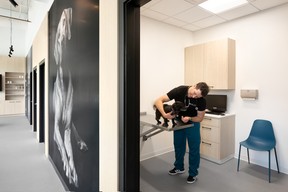 They had fun with the oversized graphic animal images used in reception that often catch the eye of those passing by, says Berube, including dogs.
"We went with black and white images that are highly visible from the street, so people think, 'oh, that's a vet clinic, let's go see,'" she says.
Berube has lived in Squamish for 15 years now and says development there is not slowing down. Although, of course, the area has changed significantly over that time, but she loves it.
STARK is busy designing projects (focusing on highly-efficient custom homes) in other small B.C. towns: "Revelstoke is really busy. Pemberton too," adds Berube.
A Light Touch: A dated Savary Island vacation property becomes a dreamy-bright family retreat

Sangre de Fruta founder Allison Weldon finds refuge on Bowen Island